TV and Radio Broadcasts
November 8th 2019,Mandelbrottalks
MBT048_Cluster of Excllence "Multiscale Bioimaging" – with Tobias Moser

...The aim of the cluster is to connect photonics, molecular biosciences, neuroscience and cardiovascular research to get a better understanding of excitable cells, which play a very important role in both disorders of the heart and the brain. He explained how the application process for such a cluster works and what the opportunities and challenges are. Then, of course, you are also going to hear about the research goal of the cluster, and in the end he told Jeanette a bit about his personal background and how he became a medical researcher in Göttingen. You are also going to hear about an exciting new project that is part of the cluster of excellence, the Hertha Sponer College, which will be launched very soon and aims at making interdisciplinary education in medics, physics and biology available to students and young researchers in these fields.

Click here for the full article.
---
July 3rd, 2018, BR alpha broadcast
Wie kommt der Klang in unser Ohr?

Mit "Lichthören" könnten mehr Informationen über Schallfrequenzen weiter gegeben werden. Neue Hoffnungen für Schwerhörige?

Für gesunde Menschen ist die Fähigkeit zu Hören selbstverständlich. Dabei ist das was unser Hörsinn täglich leistet ein einziges Wunderwerk. Kleiner als ein milliardstel Meter werden Schwingungen im Inneren des Ohres wahrgenommen. Selbst mithilfe von einer millionstel Sekunde Zeitunterschied, können zwei Tönen genau den Ort der Schallwelle herausfiltern?

Click here for the full article.
---
June 20th, 2017, NDR Visite
Was tun bei einem Hörsturz?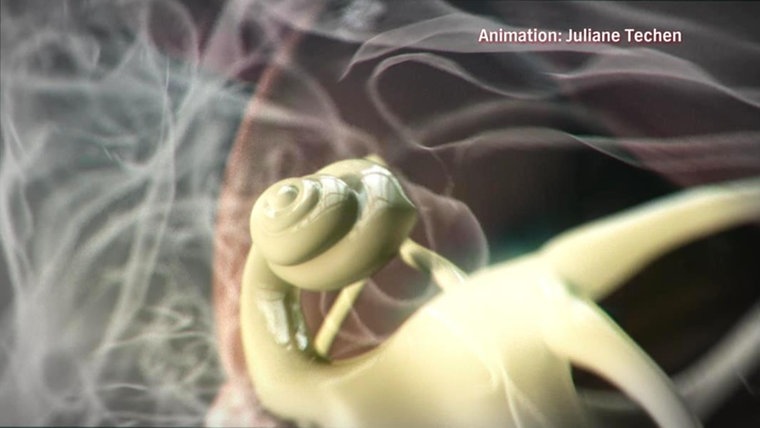 Plötzlich klingt auf einem Ohr alles ganz leise, wie durch Watte, das Ohr scheint ein bisschen taub: Das sind typische Anzeichen eines Hörsturzes. In Deutschland machen rund 200.000 Menschen pro Jahr diese beunruhigende Erfahrung. Eine eindeutige Erklärung für das Phänomen gibt es bislang ebenso wenig wie eine sicher wirksame Therapie. Klar ist nur, dass sich ein Hörsturz im Innenohr abspielt.


Click here for the full press release
---
February 17th, 2016, RTL Nachtjournal
Mit Licht hören: Optogenetik macht es möglich
Hoffnung für schwerhörige und taube Menschen
---
June 4th, 2015, Sat.1 Regional 17:30
Hörforscher der Uni Göttingen mit Leibniz-Preis geehrt
Der Hörforscher Tobias Moser von der Uni Göttingen gilt als Koryphäe auf seinem Gebiet. Der 47-Jährige hat neue Ursachen für Schwerhörigkeit gefunden und in diesem Jahr den renommierten Leibnizpreis gewonnen. Seine Forschungen geben Menschen mit Hörschäden Hoffnung. Die Forscher um Tobias Moser versuchen, lichtempfindliche Proteine durch Gentechnik ins Innenohr einzubauen. Dadurch reagieren die Nervenzellen im Ohr auf Licht. Blaues Licht von Mikro-LEDs soll die Hörschnecke dann punktgenau stimulieren. Mit Tier-Experimenten wollen die Wissenschaftler innerhalb der nächsten fünf Jahre die Technik des exakten Licht-Hörens entwickeln und verbessern.


Click here for the original source.
---
March 3rd, 18:12:04-18:13:50, 2015, NDR Niedersachsen
Verleihung Leibnizpreis an Göttinger Forscher
An interview on NDR Niedersachsen.


Click here to the original source.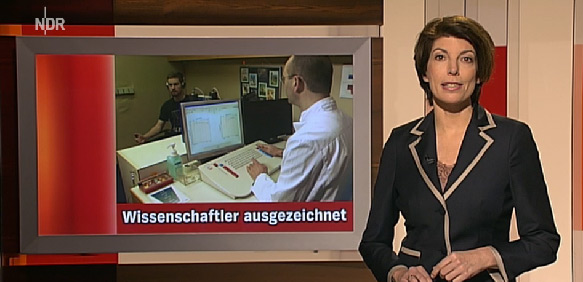 ---
Web Videos and Podcasts