News - Events
Auditory Neuroscience Minisymposium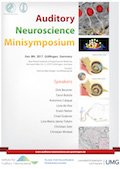 "Research on Hearing and Hearing Restoration as well as Auditory Synaptic Neuroscience is rapidly progressing and the fields are intimately connected. In this minisymposium , speakers of the Göttingen Campus from inside and outside the Institute for Auditory Neuroscience will present the latest progress as well as plans, discussing molecular mechanisms of hearing at the inner ear synapses and beyond, as well as the development of optogenetic restoration of hearing using optical cochlear implants. .
Confirmed speakers: Dirk Beutner, Tanvi Butola, Antonino Calapai, Livia de Hoz, Erwin Neher, Chad Grabner, Lina María Jaime Tobón, Cristian Setz, Christian Wrobel
Time: Friday, December 8th 2017, 08:30 - 14:00 h
Location: Max Planck Institute for Experimental Medicine, Hermann-Rein-Str. 3, 37075 Göttingen
Contact: ianoff@gwdg.de
[Program]
---
SFB 889 colloquium
"The role of cdh23 and pcdh15 in the development of a subpopulation of parvalbumin interneurons in the auditory cortex"
Speaker:
Dr. Nicolas Michalski, Institut Pasteur, Paris, France
Time: Monday, November 30th, 2017, 11:00
Location: Seminar room of the department for Otolaryngology, UMG
Host: Prof. Tobias Moser
---
11th Molecular Biology of Hearing and Deafness Conference 2018
We would like to announce the '11th Molecular Biology of Hearing and Deafness Conference' to be held from May 16th to 19th 2018 in Göttingen, Germany. This international conference serves the exchange of researchers about the latest developments in the field. Here, besides the identification of so-far unknown deafness genes, new methods of exome- / genome-analysis will be presented. Advances in the identification of gene-function-relationships will be discussed as well as the role of specific genes in the molecular physiology of hearing and in age-dependent hearing loss. Speakers will also cover potential strategies for gene therapy and prepare the transfer of the results from basic research into clinical application. The conference is supported by the
Collaborative Research Center 889
.
[Website coming soon]
Confirmed speakers:
Jörg Albert, Mike Bowl, David Corey, Sally Dawson, Albert Edge, Robert Fettiplace, Bernd Fritzsch, Lisa Goodrich, Eri Hashino, Jeffrey Holt, Dan Jagger, Katie Kindt, Hanni Kremer, Sharon Kujawa, Brigitte Malgrange, Walter Marcotti, Mireille Montcouquiol, Cynthia Morton, Régis Nouvian, Rosamaria Santarelli, Lavinia Sheets, Richard Smith, Karen Steel, Guy van Camp, Henrique von Gersdorff, Qiuju Wang, Catherine Weisz
Time:
Wednesday, May 16th to Saturday, May 19th, 2018
Location:
Max Planck Institute for Biophysical Chemistry
, Am Fassberg 11, 37077 Göttingen
Contact
:
ianoff@gwdg.de
---